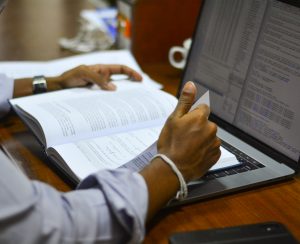 Verité Research is a private think tank based in Colombo that conducts research in Economics, Politics, Law and Media.
At Verité Research, we offer our staff an interdisciplinary research environment and direct exposure to the work and management of the organisation.
3 reasons you should apply to Verité Research:
 You will sharpen your skills in research, analysis, writing, communication and critical thinking.
 You will be mentored by a dynamic group of experts from the fields of Economics, Law and Media.
 You will be a part of an interdisciplinary work environment and be exposed to work from across the organisation.
In this role, you will:
Produce high level analysis using both quantitative and qualitative data.
Design and develop methodologies for new research.
Explore possibilities to expand the organisation's core research areas.
Manage and provide research guidance to teams working on assignments assigned to you in consultation with the organisation.
Write research reports and proposals.
What we require:
Education: First Class or Second Upper degree in Economics or Finance.
Work experience: Minimum of two – three year's work experience in public finance or similar fields. Experience should include leading/guiding a small team or research initiative.
Skills: Exceptional writing skills in English and the ability to read and analyze content in Sinhala and/or Tamil. Interest in public finance, policy management and similar areas. Ability to present compelling analysis in a succinct and precise manner. Ability to work under pressure and deliver on time.
Language Proficiency : Full professional working proficiency in reading, writing and speaking English is required. Professional working proficiency in reading, writing and speaking Sinhala and/or Tamil.
To apply, send in your CV, cover letter and writing sample to work@veriteresearch.org
Please note, only applications meeting all requirements will be considered.