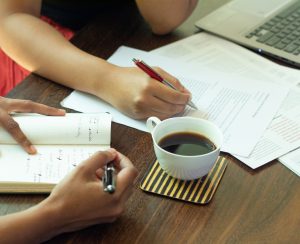 Verité Research is excited to announce an amazing opportunity for a creative and strategic individual with managerial experience, as Head of Communications and Marketing to lead the talented and passionate team managing communications in the organisation.
Verité Research is a private think tank based in Colombo that conducts research in Economics, Politics, Law and Media. Our teams work collaboratively which allows us to offer clients a unique and holistic understanding of Sri Lanka's economy, polity and society. We use multiple communication channels to transform our research and data into stories to make them relevant to ongoing public debates and discussions.
Verité follows a hybrid work structure where employees can work remotely or from the office, as needed. This is based on demands of specific tasks and roles. Working from the office is encouraged when working on tasks that require a high degree of collaboration.
3 reasons you should apply to Verité Research:
You will get the opportunity to use your expert communications skills to create a positive impact through our research, nationally and globally.
You will be mentoring and leading a young and passionate communications team in achieving this transformational impact through research communications.
You will be given the space and support to be creative, explore boundaries and learn and experiment new ideas.
In this role, you will:
Advance the organisation's objectives and support its programs through tasks such as strategy and message development, editorial support, social media and digital communications, storytelling, media relations, design and creative services and digital and video production, among others;
Oversee all communications policies, guidelines, and processes to: manage the Verité Research brand; ensure the production of high-quality, high-impact work; and steward organisational resources effectively
Be responsible for growing and managing the organisation brand
Lead and guide the communications team and deliver through them to achieve the teams' targets
Manage the organisation's relationships with varied external stakeholders such as media, journalists and other PR platforms
What we require:
Education:

Degree in preferably mass communications, marketing, journalism, public relations or related field.
Master's Degree will be an added advantage

Experience:

Minimum of 5+ years of managerial experience developing and implementing strategic communications plans.
Experience in Communications plans that focus on organisational transformation through its approach to communications in the non-profit/social change sector will be an added advantage.
The candidate should have a successful track record in day-to-day communications strategy and tactical implementation, as well as longer-term planning and evaluation.
The candidate should possess an understanding and awareness about Sri Lanka's media space. A strong understanding of social media and of how digital media works. Significant experience communicating to a variety of audiences considering local languages will be an added advantage.

Skills:

Creative thinker with strong interpersonal and cross-communication skills, and the ability to thrive in and contribute to a culture of collaboration and teamwork in a diverse work environment.
Up-to date on industry trends and able to stay ahead of the curve, excellent organisational and project management skills and ability to meet deadlines, must be able to think analytically and strategically and capable of working well as part of a team as well as independently

Language Proficiency:

Superior written and verbal communications skills in English.
Professional working proficiency in reading, writing and speaking Sinhala or Tamil is also required.
Language skills will be assessed at the time of short listing.
To apply:
Please fill out the application form found at  https://forms.gle/AsGddAVYdjET6Vur9
Please note, only applications meeting all requirements will be considered.
For more information, please contact work@veriteresearch.org