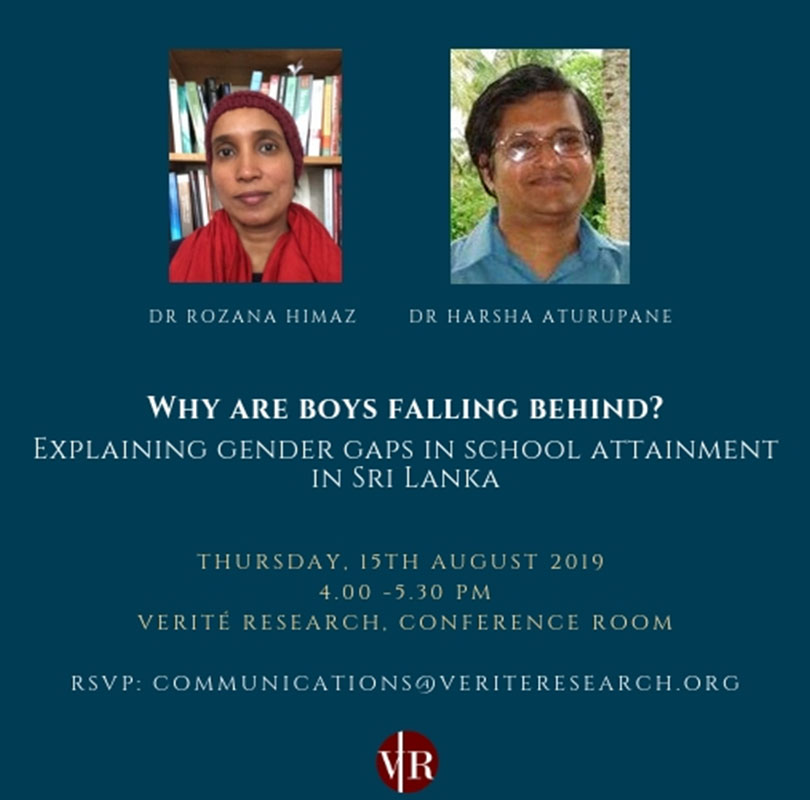 Why are boys falling behind?
Explaining gender gaps in school attainment in Sri Lanka
 By Dr Rozana Himaz & Dr Harsha Aturupane
On average, females outperform males in terms of attainment at school and enrolment in higher education. This is a trend that is increasingly common in developed countries and middle-income countries such as Thailand, South Africa, Malaysia, Indonesia and Sri Lanka. In countries such as Sri Lanka, households also seem to allocate significantly higher resources towards girls' education, compared to boys' education.
This presentation was based on a study that had looked at attainment in mathematics among a sample of twelve-year olds in Sri Lanka. The study had looked at the extent to which factors such as parental aspirations, teacher attitudes and school-based management programs can favour girls over boys and had explained the gender difference in school attainment and enrolment. The researchers went onto show how countervailing factors that favour men in the labour market and bottlenecks in higher education may also be important in explaining the overall gender gap.
Dr Rozana Himaz is an applied economist who is currently a Senior Lecturer in Economics at Oxford Brookes University, UK. Before joining Brookes she worked as a lecturer and researcher at the University of Oxford, as a researcher at the Department of Applied Economics at the University of Cambridge and as a Research Economist at the Institute of Policy Studies in Sri Lanka. She has also worked as a consultant for the World Bank and ILO. Rozana has published extensively in the areas of education, welfare, poverty, policy and fiscal issues related to Sri Lanka, India, Vietnam and the UK. She read for her Ph.D. in Economics at the University of Cambridge, MSc at the London School of Economics (LSE) and Bachelor of Economics degree at the University of Sydney, Australia.
Dr. Harsha Aturupane is a Lead Economist in the Education Global Practice of the World Bank. He has worked and written extensively in the fields of human development, education economics, higher education, general education, labour economics, health economics, and the economics of poverty and income distribution.  He has led teams in the preparation and supervision of World Bank projects and programs covering higher education, general education, health, social protection, economic reform, private sector development, and strengthening fiduciary processes. He is also the Program Leader for the World Bank's work in Human Development for Sri Lanka and the Maldives. He has a Ph.D. and M.Phil. in Economics from the University of Cambridge, and a Bachelor of Arts in Economics and Postgraduate Diploma in Economic Development from the University of Colombo.