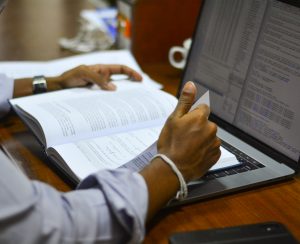 Verité Research is a private think tank based in Colombo that conducts research in Economics, Politics, Law and Media.
We are looking to hire a Research Analyst to join our Economics Research Team in the areas of Public Finance and Socio-economics.
Verité follows a hybrid work structure where employees can work remotely or from the office, as needed. This is based on demands of specific tasks and roles. Working from the office is encouraged when working on tasks that require a high degree of collaboration.
3 reasons you should apply to Verité Research:
Skill Development: You'll sharpen research, analysis, writing, and critical thinking skills through mentorship from experts in Economics, Law, and Media.
Interdisciplinary Exposure: You'll work in a diverse environment and be exposed to various aspects of the organization's work.
Impactful Contribution: You'll have the opportunity to actively contribute to addressing real-world problems through research and advocacy efforts.
In this role, you will:
Produce high level analysis by interpreting social and economic data, trends and events using both quantitative and qualitative data.
Effectively communicate research results through written reports, presentations, and discussions, ensuring that complex findings are understandable to non-experts.
Manage research projects, including timelines, resources, and deliverables, to meet organizational goals and objectives.
Manage and provide research guidance to teams working on assignments assigned to you in consultation with the organisation.
Write research reports and proposals.
What we require:
Education: Bachelor's degree (First Class or Second Upper) in Economics, Public Policy, Sociology, Gender studies,  or any another related field.
Work experience: Minimum of one – three years' work experience in any field. Work experience in the fields of socio-economics, policy analysis, academic research and advocacy, data analysis or journalism would be an added advantage.
Skills: Critical thinking skills to evaluate complex social issues objectively- using  data, recognising patterns and identifying cause-effect relationships; exceptional writing skills in English, ability to read and analyse content in Sinhala and/or Tamil; ability to present compelling analysis in a succinct and precise manner; ability to work under pressure and deliver on time.
Language Proficiency : Full professional working proficiency in reading, writing and speaking English is required. Professional working proficiency in reading, writing and speaking Sinhala and/or Tamil.
To apply, send in your CV, cover letter and writing sample to work@veriteresearch.org
Please note, only applications meeting all requirements will be considered.