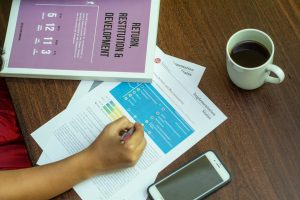 Verité Research is a private think tank based in Colombo that conducts research in Economics, Politics, Law and Media.
We are looking to hire a Senior Research Analyst to join our Economics Research Team in the areas of Public Finance and Socio-economics.
Verité follows a hybrid work structure where employees can work remotely or from the office, as needed. This is based on demands of specific tasks and roles. Working from the office is encouraged when working on tasks that require a high degree of collaboration.
3 reasons you should apply to Verité Research:
Skill Development: You'll sharpen research, analysis, writing, and critical thinking skills through mentorship from experts in Economics, Law, and Media.
Interdisciplinary Exposure: You'll work in a diverse environment and be exposed to various aspects of the organization's work.
Impactful Contribution: You'll have the opportunity to actively contribute to addressing real-world problems through research and advocacy efforts.
In this role, you will:
Provide research leadership to the team by guiding and giving input on research activities and producing cutting edge analysis.
Interpret and present data analysis through research communications, such as written reports and presentations.
Lead and manage a team of researchers and research processes to successfully deliver results through their engagement.
Engage in proposal writing and build demand for the outputs of the Research and Advisory Practices and other products and services of the organisation.
Contribute to the formulation of organizational strategies and policy recommendations based on data-driven insights.
Build and maintain relationships with internal and external stakeholders to gather insights, share findings, and ensure research aligns with organisational values objective
Lead quantitative and statistical research initiatives for the organisation.
What we require:
Education: Master's Degree in Economics, Statistics, Public Policy, Sociology or another related field. Candidates with a Bachelor's degree with relevant work experience of five or more years will also be considered.
Work experience: 3-4 years experience in research analysis in the field of public finance, socioeconomics, data analysis, report writing, or project and client management.
Skills: Exceptional writing skill in English and the ability to read and analyse content in Sinhala and/or Tamil. Ability to present compelling analysis in a succinct and precise manner. Ability to work under pressure and deliver on time.
Language Proficiency : Full professional working proficiency in reading, writing and speaking English is required. Professional working proficiency in reading, writing and speaking Sinhala and/or Tamil.
To apply: Please send in your CV to work@veriteresearch.org
Please note, only shortlisted candidates will be contacted.