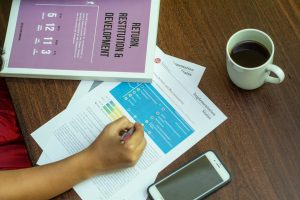 Verité Research is a private think tank based in Colombo that conducts research in Economics, Politics, Law and Media.
At Verité Research, we offer our staff an interdisciplinary research environment and direct exposure to the work and management of the organisation.
We are looking to hire a Research Manager to join our Politics and Parliamentary Research Team
In this role, you will:
Lead the Parliamentary Research Team (PRT) that oversees the work of Manthri.lk. Manthri.lk is Sri Lanka's only trilingual public education platform that holds MPs accountable for their behaviour in parliament. As a Research Manager attached to PRT, you will be responsible in leading your team in designing research methodologies and strategies, executing these and developing analyses and communication around the findings, to the general public. You will also be accountable for managing the research scope, team, resources and the success of the research studies.
This role will include:
Ensuring that Manthri.lk runs smoothly.
Monitoring timely delivery via assignment dashboards.
In some instances, leading certain assignments and components of research and assuming complete accountability for quality delivery and successful closure of projects.
Assisting in the overall management of assignments of the Parliamentary Research Team including guiding and grooming junior team members.
Developing and executing processes which assist the research teams to deliver; and communicating effectively, problem-solving and providing time solutions proactively.
What we require:
Education: First Class or Second Upper Degree in Political Science and/or International Relations. Education and/or exposure working on parliamentary research in Sri Lanka will be an added advantage.
Work experience: Three to five years of research writing and analysis in related field. Demonstrated ability in leading and managing processes and teams to achieve results. A reasonable knowledge and interest in the local socio-political landscape is mandatory.
Skills: Analytical capability, research/ report writing skills, ability to work under pressure and meet deadlines, ability to coordinate and provide leadership/direction, conflict resolution, manage project dashboards, project planning and forecasting and communication skills (especially using Canva/ Illustrator) will be an added advantage
Languages: Full professional proficiency in reading, writing, and speaking English is required. Professional working proficiency in reading, writing, and speaking Sinhala/Tamil. Language skills will be assessed at the time of shortlisting.
Please note that only shortlisted candidates will be contacted.
To apply: Please send in your CV and Cover Letter to work@veriteresearch.org